At one time, Microsoft Office was ahead of its time and was ruling the business world. By the end of 2000, Microsoft Office managed to brush aside rivals like Lotus SmartSuite and WordPerfect Office, and there is no competition anywhere close.
Next, Google came in with Google Docs and Spreadsheets in 2006; an online collaborative spreadsheet and word processing combo that mixed in other business services to form G Suite.
While Google's productivity suite did not gain popularity immediately, it started gaining users slowly and now has more than five million customers from different parts of the world. On the other hand, Microsoft shifted its focus away from the old licensed Microsoft Office software to Office 365; a subscription service that offers new features and frequent updates.
In this Microsoft 365 vs G Suite article, we will talk about the different aspects of both tools to help you understand which is the best choice for you.
What Are G Suite & Office 365?
Before we dive into this G Suite vs Office 365 article, we need to understand what they are. Once you create a business website, the next logical step is to create a professional business email address.
Unlike your @outlook.com or @gmail.com email, a professional business email will contain the name of your company, something like xyz@businessname.com.
While most WordPress hosting platforms offer a free email address for your business, they cannot compete with powerful business software like Office 365 and G Suite, both of which offer features like reliable emails, video conferencing tools, calendars, file storage, notes, etc.
With Office 365 or G Suite, all data is stored in the cloud, meaning files are accessible from any remote location. Great news for anyone who suddenly found themselves working from home during the pandemic.
What Is G Suite?
G Suite, now commonly known as Google Workspace, is a collection of cloud-based Google apps developed and marketed by Google. It was first launched in 2006 and offers enterprise features like custom email addresses, Google Drive storage, and email/phone customer support.
Google's G Suite apps include Google Hangouts, Keep, Calendar, Slides, Sheets, Google Docs, Google Drive, and Gmail.
Learn more about managing multiple G Suite accounts here.
What Is Office 365?
Office 365, or Microsoft 365, is a subscription-based service by Microsoft and offers the Microsoft Office product line. It was first launched in 2017 and provides several cloud-based device management and security features, apart from the Windows 10 Enterprise licenses.
Microsoft's Office 365 includes Microsoft Office apps like Microsoft Word, Skype, One Note, PowerPoint, Excel, OneDrive, and Outlook.
Learn more about managing multiple Outlook accounts here. 
G Suite & Office 365 Similarities
Both G Suite and Office 365 are very easy to set up and start using. They both have some great features in common that we'll explore here.
Professional email addresses
This is a fact that most people did not know. More than 72% of customers prefer communicating with a business via email. So, it is important to use a professional email to talk to clients, vendors, suppliers, and customers. G Suite and Office 365 both offer a professional business email address option.
Integrated app suite
G Suite and Office 365 both offer an excellent range of tools. For instance, with G Suite, you get Google Calendar, Google Drive, and Gmail. While with Office 365, you have Outlook, Skype, Microsoft Word – and other Microsoft Office familiars. However, while Google offers a free version of these apps, G Suite apps are fitted with enterprise-level features. For example, more than one calendar in Google Calendar. While, with Office 365, a paid subscription is required to access Microsoft apps on any device bigger than a smartphone.
Cloud storage
Everything you do in G Suite and Office 365 will be stored in the Cloud, like files, drafts, emails, conversations, etc. For both suites, users get access to 1TB worth of storage space. Although, for free Google users, there is also a storage option of 15GB per user.
Real-time co-authoring
Office 365 and G Suite offer a wide range of collaboration tools so that you and your employees and co-workers can see the changes that you make on the documents in real-time. In addition, you can share the files via cloud storage with your team so that they can access the documents and make the required updates and edits. More than one collaborator can be working on the same document at the same time.
Communication
One of the most important features of both Office 365 and G Suite is the efficient in-built communication app. For G Suite, this comes in the form of Google Hangouts. And for Office 365, this is Skype. These apps play an important role in facilitating communication in real-time. For example, you can send instant messages to your employees and co-workers. And take video calls whenever you need them.
Sending links instead of files
All email browsers have limitations when it comes to the size of the attachments. Overall, this makes the inbox more cluttered since you will have to send more than a single email to send important documents. However, Office 365 and G Suite offer a solution to this problem. All you have to do is upload the document on the cloud storage and share the link instead. This way, you can send several links at one go instead of several emails with a single attachment of the files.
Comparing G Suite Vs. Office 365
Now that you have an idea about both G Suite and Office 365's similarities, let us learn some differences by comparing G Suite and Office 365.
File storage
When you consider the entry-level plans, Office 365 is the clear winner. It offers a storage capacity of 1TB off the bat. On the other hand, G Suite's Basic Plan offers only 30GB of storage.
However, G Suite's Business Plan offers unlimited cloud storage, which plays an important role for any small business that wants to store a lot of data.
So, G Suite wins out for flexibility by providing a range of options with a range of price points depending on how much data storage you really need.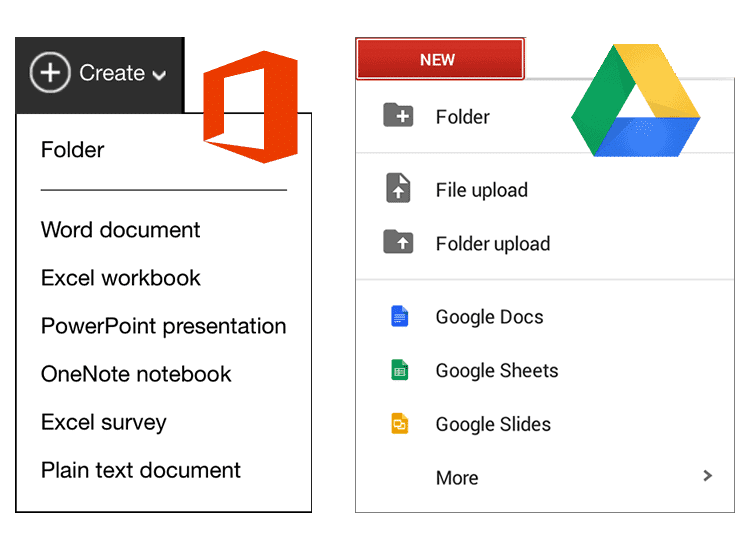 Email
The Basic Plan of Office 365 offers 50GB inbox space, with 1TB separate storage capacity. Meanwhile, G Suite's basic plan offers a total storage space of 30GB. For people needing lots of email storage, the premium plan offers unlimited storage, but that comes at an extra cost. However, Gmail is a great email option that is easy to use, robust and fast. The search functionality is very powerful and offers a range of third-party apps. Learn more about managing multiple email accounts here. 
Desktop apps
You will find desktop apps as well as cloud-based versions for Office 365. This means that you can install various Office 365 suite apps like Outlook, Word, Excel, etc., on your desktop and work offline. However, when it comes to comparing the desktop apps by Microsoft, the Google apps are quite basic. For example, Excel is definitely a winner in terms of handling and functionality when compared to Google Sheets, Google's spreadsheet app equivalent.
Video calls
Both G Suite and Office 365 offer conferencing functionalities via Hangouts and Skype, respectively. When you compare Hangouts with Skype, you may notice that the frequency of dropped calls is less in the case of the former. Additionally, it tends to load faster than Skype. However, Skype offers more features than Hangouts; you may have to pay for the expensive plans though. One big difference, though, is the number of people able to join a video call at one time. For Skype, this number is 100, whereas Google Hangouts only lets 25 people join a video call at the same time.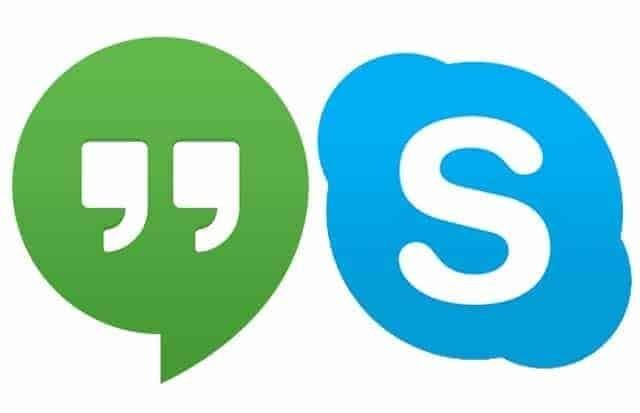 Working offline
All you need to do is install the Chrome browser and turn on the file-syncing feature to work offline with G Suite. This way, you can edit and make changes offline. As soon as you are connected to the internet, the changes will sync to the cloud. In the case of Office 365, you can make use of the desktop application on the desktop version of OneDrive. Additionally, the mobile apps also allow you to work offline – all you need to do is download the files to your mobile device.
Which Is Best For You, G Suite or Office 365?
When you compare G Suite with Office 365, you will notice that both have their sets of pros and cons. So, it's important to evaluate the advantages and disadvantages of both and what works best for your circumstances. For instance, if your company requires all the files to be prepared in MS Word, then you should probably opt for Office 365.
On the other hand, if your business handles a huge number of emails, you can readily make use of G Suite's Business Plan. This plan will offer an unlimited storage facility for emails as well as files. For a regular email storage solution, you should opt for the Office 365 basic plan which gives you decent storage space for your files and emails for a more affordable price.
As both productivity suites offer free trials – Office 365 free trial and G Suite free trial –  if you're still unsure which to go with, it's worth taking time to try them both to work out which you think will suit you best before you commit. Sometimes, when functionality is very similar, it comes down to which user interface you prefer interacting with. It's important not to overlook that aspect, as you'll be using it every day.
Give Your Team A Productivity Boost Today With Switch
Busy teams are always looking for ways to be more productive, especially when they are juggling multiple projects and flitting between multiple apps and interfaces. Switch is a productivity tool designed for busy digital workers, allowing users to seamlessly navigate between tabs and manage multiple accounts of the same application in one window, providing full visibility of your workflow at all times. Try Switch today and see your productivity skyrocket.
---
Switch is a productivity tool for busy digital workers. It helps you work quicker than ever before by streamlining your workstation and cutting down time wastage in your browser. Learn more here.
All author posts