Easily find your past, present, and future tabs with the Switch Advanced search.
With Switch Search:
– All of your active tabs are shown under now 
– You can find all past work and pages you've visited with our advanced search
– And if you can't find what you're looking for then the homepage acts just like a Google search 
NB – searching historical docs is a Switch Pro feature

Explore Advanced Search:
Switch Homepage
Our new homepage puts your past, present, and future navigation in one place.
Set it to your default new tab page in your Accounts Settings by toggling Use Switch on new tab page to on.
Search Shortcut
To access the search from anywhere you can either:
– click the search icon at the bottom of the Switch Sidebar
– Or use the Ctrl + \ shortcut on your keyboard.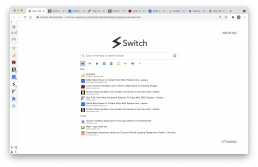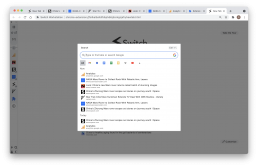 Search Anatomy
Search Box
Type to find tabs, or press enter ↵ to search Google directly 
Filters
Click the filters to sort your documents and work by web app
Now – Active Tabs
All tabs currently open will show under the Now header. 
Today – History (Pro Feature)
All of your past work and documents are listed under headings when you last visited them: Today or Older.
Document Management
Recent Documents
Finding recent documents has never been quicker with Switch's search filters.
You can quickly find all the Docs, Sheets and Slides from your Google Drive accounts by cycling through the web apps filter.
Documents show the most recently visited ones first.