When starting a website or blog, you may be wondering one thing – Squarespace vs WordPress, which is better? WordPress is perhaps the most prevalent content management system today. More than 35% of the number of websites online today are WordPress sites, which is quite a significant figure.
However, most people did not know that there are many website builders out there other than WordPress. They are pretty simple to understand and use, as you don't have to know how to code to use one. Some of the most notable ones include Magento, Drupal, Wix, and of course, Squarespace.
You may ask yourself – why should you look for other platforms when WordPress is so popular? If it's so popular, then it must be the best, right? The answer is that not all projects are the same. Some may work well with WordPress, while others are suited for a website builder like Squarespace.
If you are trying to decide between WordPress and Squarespace, you have come to the right page. In this article, we shall see the differences between WordPress and Squarespace in vivid detail.
Both platforms will be stacked against one another, and their strengths and weaknesses will be analysed thoroughly. The ultimate goal of this comparison will help you determine which platform is best for you to build your next web building project.
What Are WordPress & Squarespace?
Before we decide to dive into the comparison between WordPress and Squarespace, we need to learn what they are, based on their functionality. Only after this will you be able to understand the differences between the two platforms.
WordPress: What Is it?
WordPress is a popular self-hosted content management and website building system that, as mentioned above, powers over 35% of the websites on the internet today. WordPress is available in two types:
WordPress.org
WordPress.org is a self-hosted, open-source, and free software that provides the framework you need for building a website. Therefore, you do not need to know any coding language to set up a website on WordPress.org.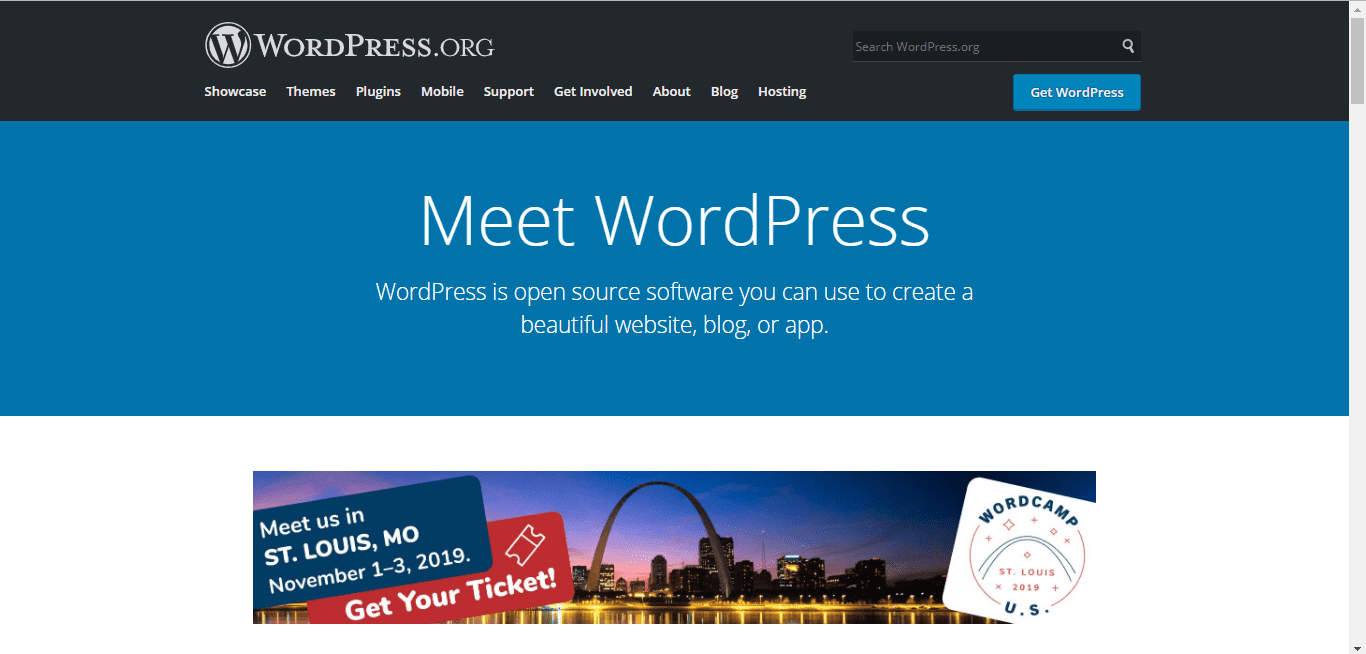 However, the hosting and design of the website will be your responsibility. For designing, you can purchase premium themes, hire a web designer/developer, or design it yourself. You also need to install plugins to add functionality, and you can find thousands of plugins found in the WordPress directory.
WordPress.com
On the other hand, WordPress.com is the hosted version of WordPress. This means that the hosting aspect is already taken care of. All you need to do is create an account here and get your business website up and running. All these can be done for free.
The main difference between WordPress.org and WordPress.com is the amount of freedom available for the end-user. In the case of WordPress.com, the options are limited. However, WordPress.org is open for all. For this article, we're going to focus on the WordPress.org content management system.
Squarespace: What is it?
Squarespace offers a robust hosting and website building platform to individuals and companies alike, launched by Anthony Casalena in 2004. If you want to host a website here, you can use Squarespace to both host and design the site.
To customise the website, you can either use their drag-and-drop function or use their pre-built templates. All these features are available for a single fee. Based on your plans, you can be billed monthly or yearly.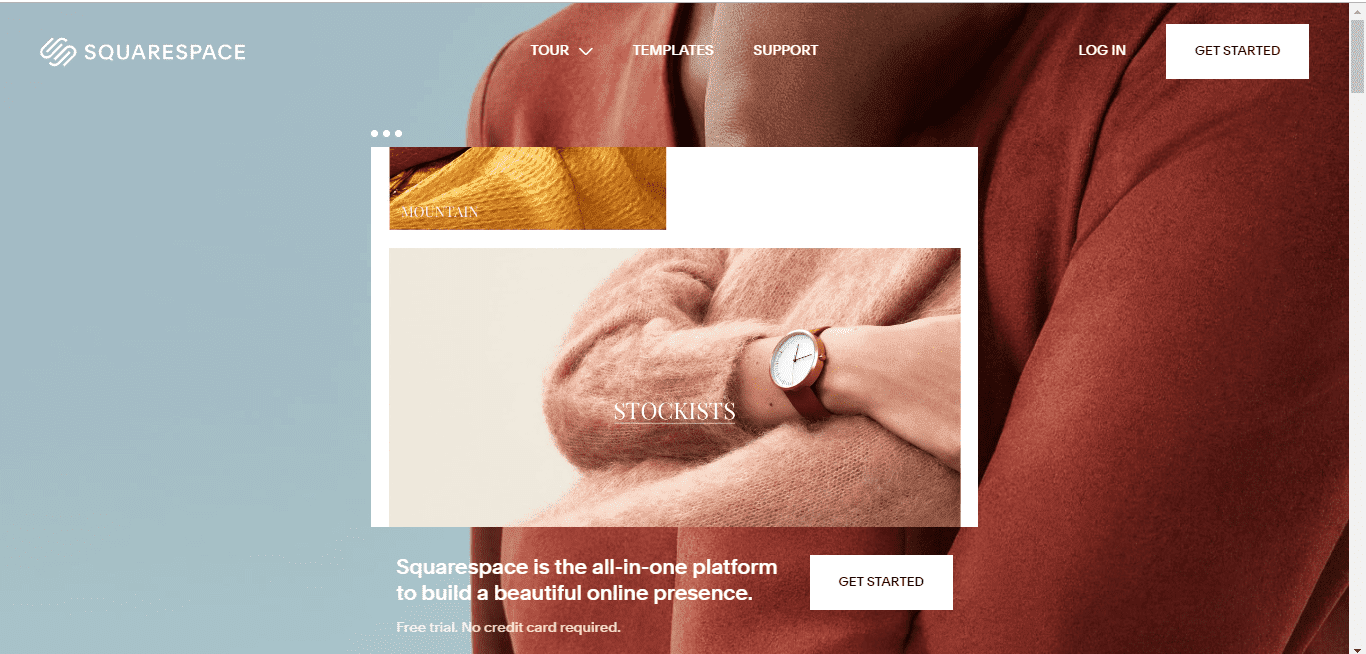 Squarespace is best suited for people who are comfortable working on the more technical aspects of creating and hosting a website.
Comparison between WordPress and Squarespace
As WordPress and Squarespace are two diverse platforms, it would only make sense that they would appeal to different audiences and work adequately for different types of websites.
Squarespace is a website building platform that comprises several advanced features like SEO tools, security measures, templates, and more all in one package. It is a perfect platform for anyone looking to build a professional website without spending a fortune or a ton of time.
On the other hand, WordPress is a Content Management System (CMS) where you are responsible for almost everything that happens on your website. Right from managing the security and finding a theme to building and hosting the website, you get to be in control of everything. WordPress is the best option if you love to be in charge or manage everything, such as coding and other aspects of development.
Here, we'll dive into a couple of features offered by WordPress and Squarespace to give you a better understanding of which CMS is best for you and your needs.
Accessibility and Simplicity
Before you start setting up a website from scratch, there are specific computer languages you need to know, like HTML, custom CSS codes, adding functionality with Javascript, and more. Who knows, you may even need to know a scripting language like PHP paired with an understanding of databases, depending on the complexity of the website.
However, not all of us can write codes. And not all of us want to. Thankfully, you do not have to write a single letter of code on both WordPress and Squarespace. But, the learning curves for both platforms are not the same. While Squarespace is a bit simpler, there may be a cost. Let us learn about it in detail.
WordPress
Before you decide to set up a website on WordPress, you need to learn how web hosting works. Additionally, you will also have to learn how to install a WordPress domain name; but, this should not be a problem because most hosting providers make it very easy and convenient for users to install WordPress with a single click.
As for the design, you have the option of using the premade theme. Unlike Squarespace, WordPress offers a lot of free and premium themes. As a matter of fact, theming in WordPress is, in itself, a multi-million dollar industry. This implies that you will never run out of options.
You need to have a working knowledge of PHP and CSS if you want to customise the theme on a deeper and more intricate level. Additionally, you also need to know about the basics of WordPress elements such as archive, tags, category, page, and post.
Squarespace
The working of Squarespace is extremely easy. You first need to create an account and then select one of the many web design templates. Once done, you can publish your website. This is all the work you need to do to create a website on Squarespace.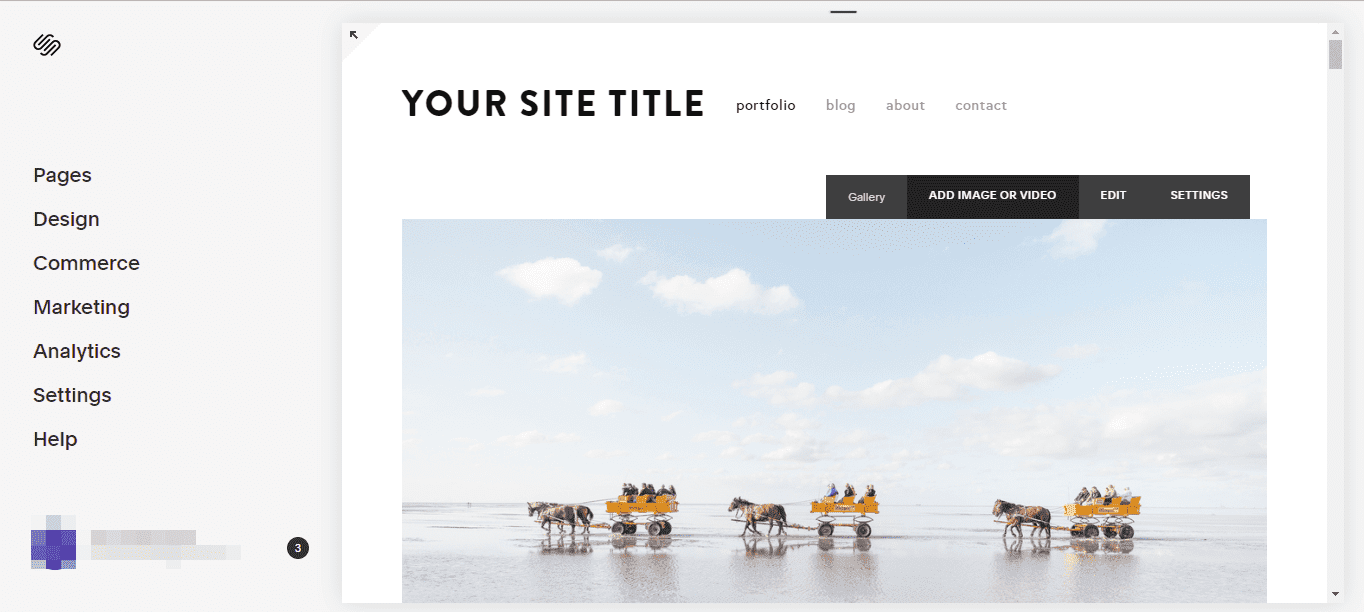 Squarespace also provides its users with a visual builder; this tool allows you to customise your site based on what you are looking for. The visual builder will allow you to tweak, add, and remove web elements from the website.
The only pitfall of the simple, drag-and-drop solution of Squarespace is that it can be quite limiting. While the platform allows you to choose any among its vast collection of themes, you will still not have the freedom to design the site exactly how you want it to look.
Winner
In the first round of Squarespace versus WordPress, Squarespace is the winner due to its accessibility and simplicity. However, Squarespace has won by a very narrow margin.
While Squarespace may seem more straightforward, WordPress is also fairly easy to set up, even if you do not know a lot about coding.
Content Management and Blogging
Let's say you want to focus more on blogging than selling online. In this case, you are looking to monetise your website through advertising and affiliate marketing on your blog posts. For this purpose, which is the best platform to use? Let's find out.
WordPress
WordPress is a much better choice if you are looking for blogging and content management, as this type of content has been at the forefront of its development since its inception in 2003. The basic idea behind the development of WordPress was to allow bloggers to create and publish content efficiently and seamlessly.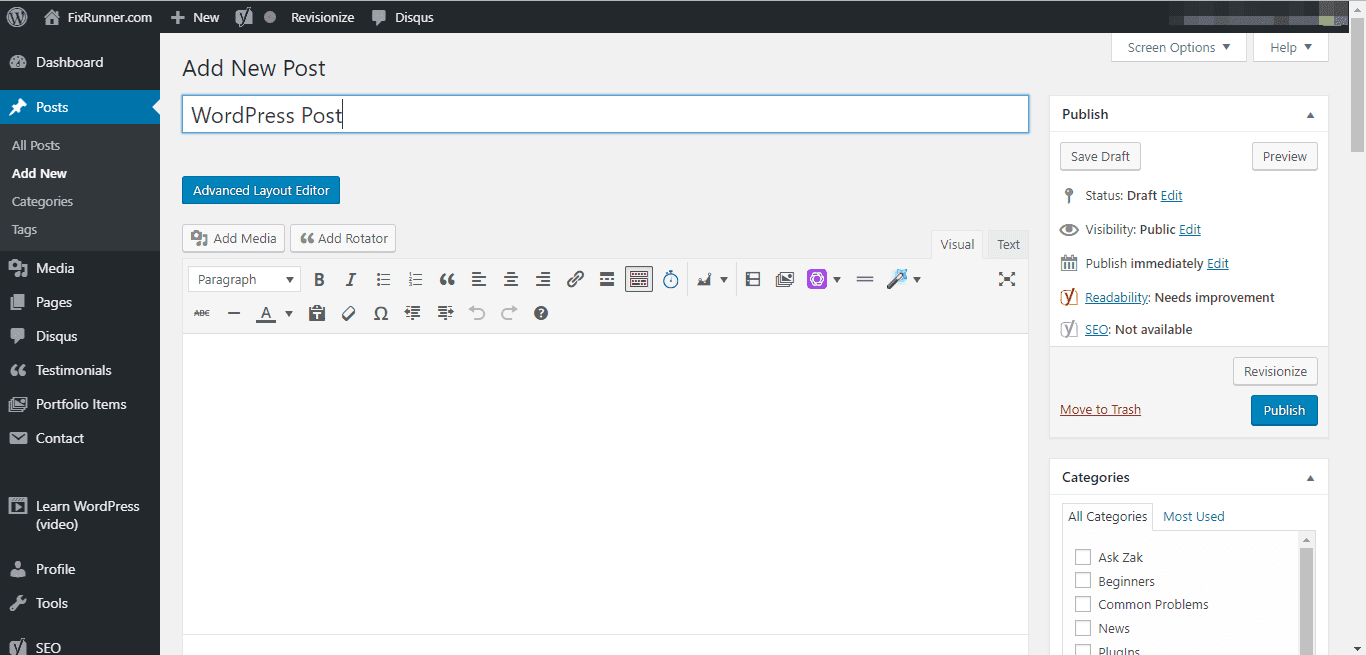 The images you upload also get stored in your WordPress library, meaning that you can re-use the images without having to re-upload them from your computer. Additionally, some features will allow you to format your posts as per your wishes.
The recent WordPress updates also allow you to create tables, which you won't find in Squarespace.
Perhaps the best aspect of WordPress is that you have the choice to use their built-in visual and text editor for added customisation, where a post is brought down to its HTML elements via the text editor. This way, you can easily add HTML elements to your posts like class, list, and more. You can add in-line styling as well.
Squarespace
When it comes to blogging, Squarespace may lag behind a bit. To begin, this web hosting platform does not have a media library, meaning that there is no space or place to store the images you upload on your blogs. As a result, you will end up re-uploading the pictures that you want to reuse in the future.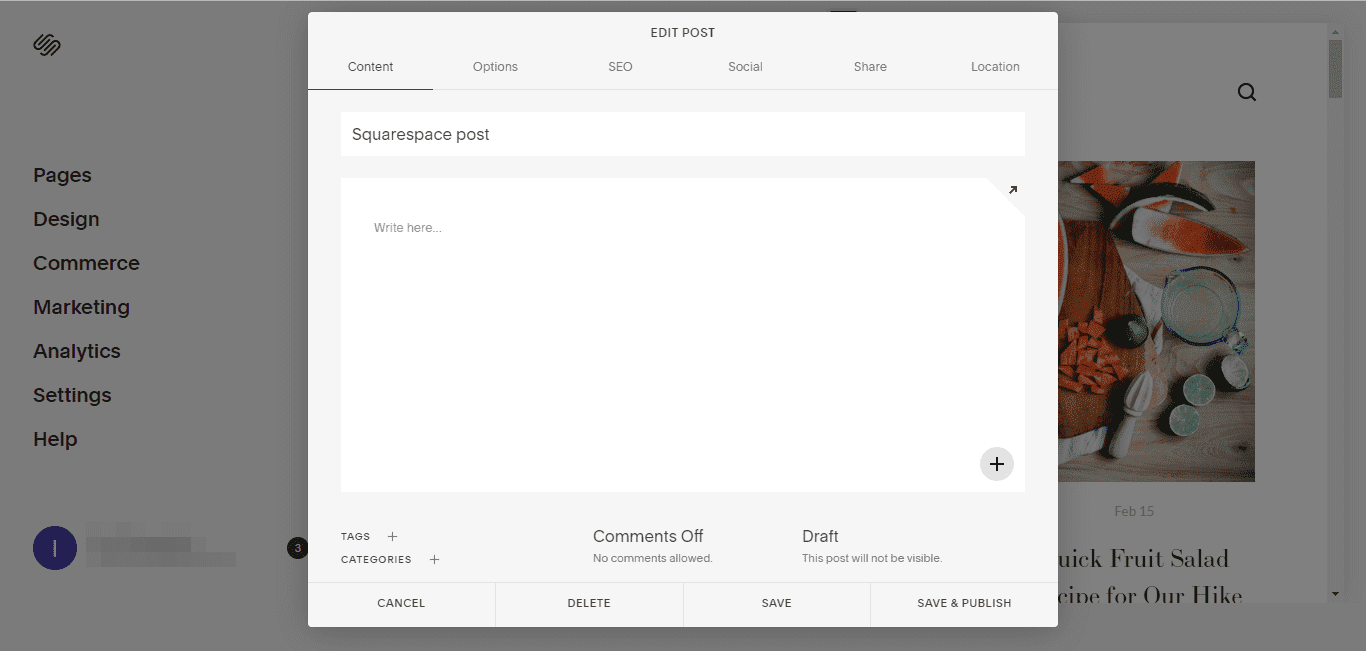 Another aspect why blogging is not such a great feature in Squarespace is because there is no auto-save feature for your post. In the unfortunate event of a sudden power or internet outage, you will have to restart your work all over again. In WordPress, posts get saved automatically as you keep typing.
On the brighter side, you will have the option of optimising your blog posts for SEO. Additionally, you will also be able to share and syndicate your content to your social media handles. All these features are available at the click of your mouse button.
Winner
The winner of this round is WordPress. After all, WordPress was originally a blogging platform that was made for bloggers.
SEO
Irrespective of whether you launch your site on WordPress or Squarespace, search engine optimisation (SEO) is an integral part of creating a website. No matter how much hard work you have put into designing your website, it won't benefit you if no one visits. Let's compare WordPress and Squarespace in this aspect.
WordPress
With WordPress, the only SEO-related challenge is enabling SSL certification, something that you can do easily on Squarespace. However, it is not something to lose your sleep over – you just have to get in touch with your host provider to enable your SSL certification.
Apart from this tiny hiccup, WordPress is nearly perfect in terms of SEO. There are many free and paid plugins that you can use to optimise your website for better performance. For instance, some of these plugins include Jetpack, W3 Total Cache, Yoast, and more.
WordPress allows you to optimise your posts as long as you have installed and activated Yoast. The website building platform is also SEO-friendly, and all your efforts in getting a higher rank will bring results. Most of the themes at WordPress are mobile-optimized and can help rank you better as well.
Squarespace
The SEO offerings from Squarespace are relatively impressive. However, to most other users, the features are also very beginner-friendly. Whenever you create a website on Squarespace, you get a free SSL certificate. Once you enable SSL for your website, it will change from HTTP to HTTPS.
Search engine giant Google has been listing SSL certificates as a ranking factor since 2014. If you want your site to be ranked up high, you need to enable SSL encryption. Enabling SSL on Squarespace is very easy – all you need to do is head to Settings, then Advanced, and then tap on SSL.
Another aspect of Squarespace is that you can categorise your posts, give space for a meta-description, and create a mobile-friendly site.
But, you will have no control whatsoever over the loading speed of your site. This happens because you are constrained to the web hosting of Squarespace. On the other hand, WordPress allows you to choose the hosts of your website.
You also do not have many options for working with third-party plugins that can help your website perform better on search engines.
Winner
WordPress is the winner when it comes to SEO. This platform offers more control and options for the best SEO.
E-commerce
If you want to build an online store, you need to look into the e-commerce functionality of WordPress vs Squarespace.
WordPress
In WordPress, users are allowed to integrate and use any payment platform or processor as they want. Some of the many WordPress plugins you can use to easily accept online payments include Skrill, Payoneer, 2Checkout, Google Checkout, Stripe, and there are even options for accepting Bitcoin and other cryptocurrencies.
WordPress has a lot of e-commerce plugins that can turn your website into an online store quickly. WooCommerce, the world's most popular e-commerce platform, is a WordPress plugin. WooCommerce is fitted with its own ecosystem of WooCommerce ready themes and add-ons for you to choose from.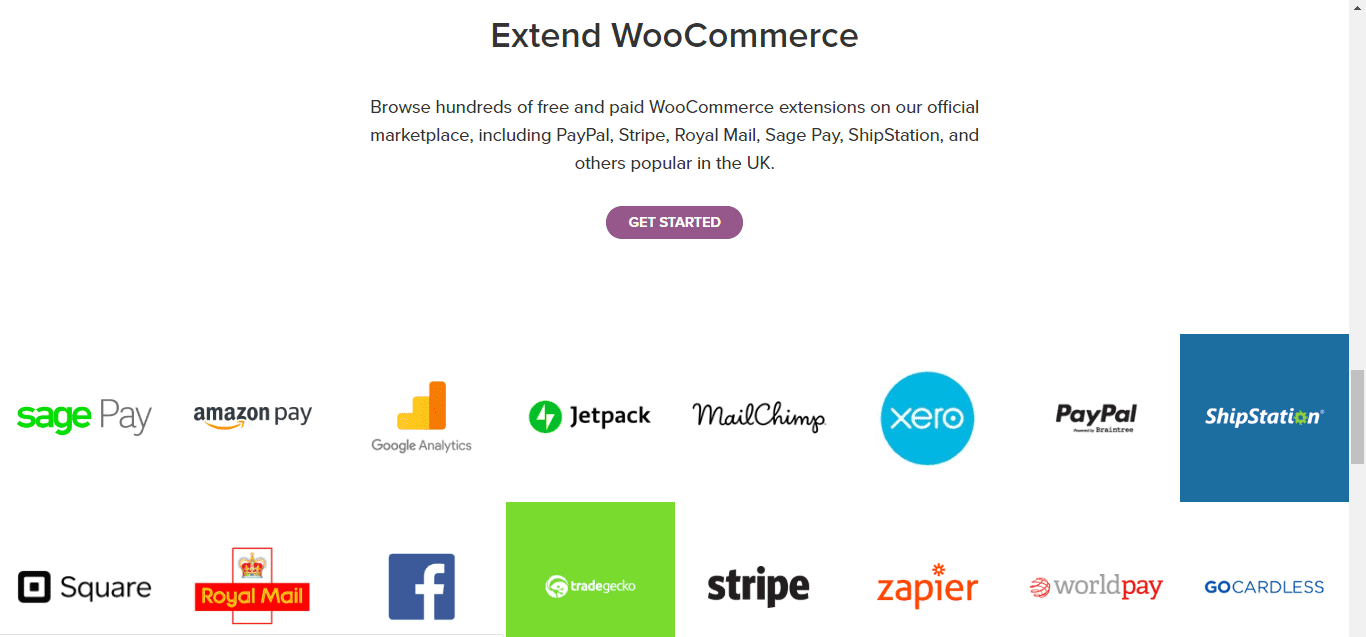 There are no limits on how many of these products you add to your website, how you sell them, or how you display them. You have the freedom to run your own affiliate program and grow your sales without any type of restriction.
Squarespace
The e-commerce options available in Squarespace can be quite limited. The only payment processing options available are PayPal and Stripe, which are only available in a few countries. This lack of user choice will restrict your ability to accept payments from a global audience.
If you want to grow your small businesses, starting with such a limitation is not ideal or recommended.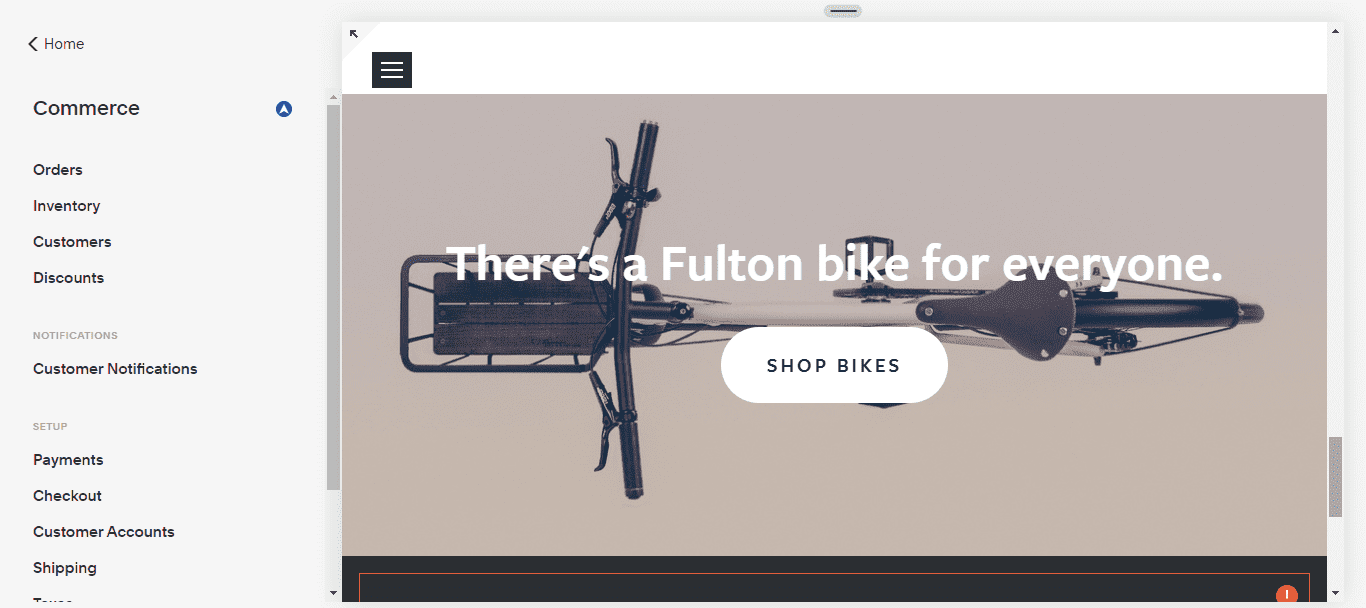 Apart from this, you can only sell products in the Commerce or Business plans. For instance, if you want to sell only one product, you will have to opt for the Business plan. The yearly cost of hosting a Squarespace site for just a single product will be much higher than a VPS or shared hosting plan for WordPress.
Additionally, there are also scant third-party services that you can integrate within your Squarespace website. Overall, these factors will affect how you promote your website and the things you can do to grow your business and make more sales.
Winner
WordPress is the winner because it is very far ahead of Squarespace in terms of running an e-commerce website. With such limitations using Squarespace, it won't help much in the growth of any online business.
The best aspect of WordPress is that you can use it alongside powerful e-commerce apps like Shopify, which allow you to set up and manage an online store with ease.
Pricing
When it is about business, you will likely make the most profit if you invest. Both platforms cost money – however, which one is pocket-friendlier and gives you the best value for money?
WordPress
WordPress is free, which is one of the reasons why it has grown in popularity. Additionally, there are no maintenance fees and you can easily set up an online store without having to shell out anything out of your pocket.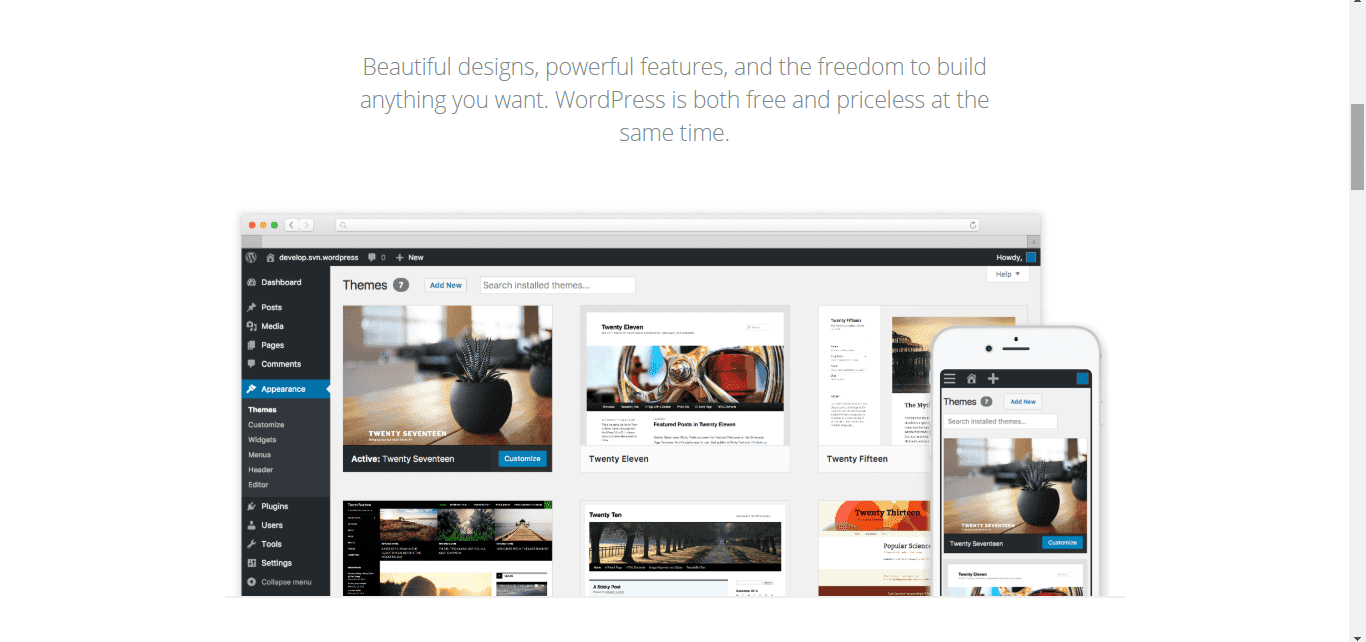 However, hosting is not free. If you want your website to be on the web, you need to host it. Now, the cost of hosting a WordPress website will vary, ranging from $2/month to $300/month, depending on the complexity of your website. As for the designs, WordPress has roughly about 7,000 WordPress theme layouts.
Squarespace
The pricing of Squarespace starts at $12 a month. However, this is a limited plan, which is best suited for people looking to set up a portfolio website. For example, you will not have any access to the web analytic tool in the $12 a month plan, so you will be unable to track your visitors. You are also limited to two contributors and, so, cannot sell anything on your site.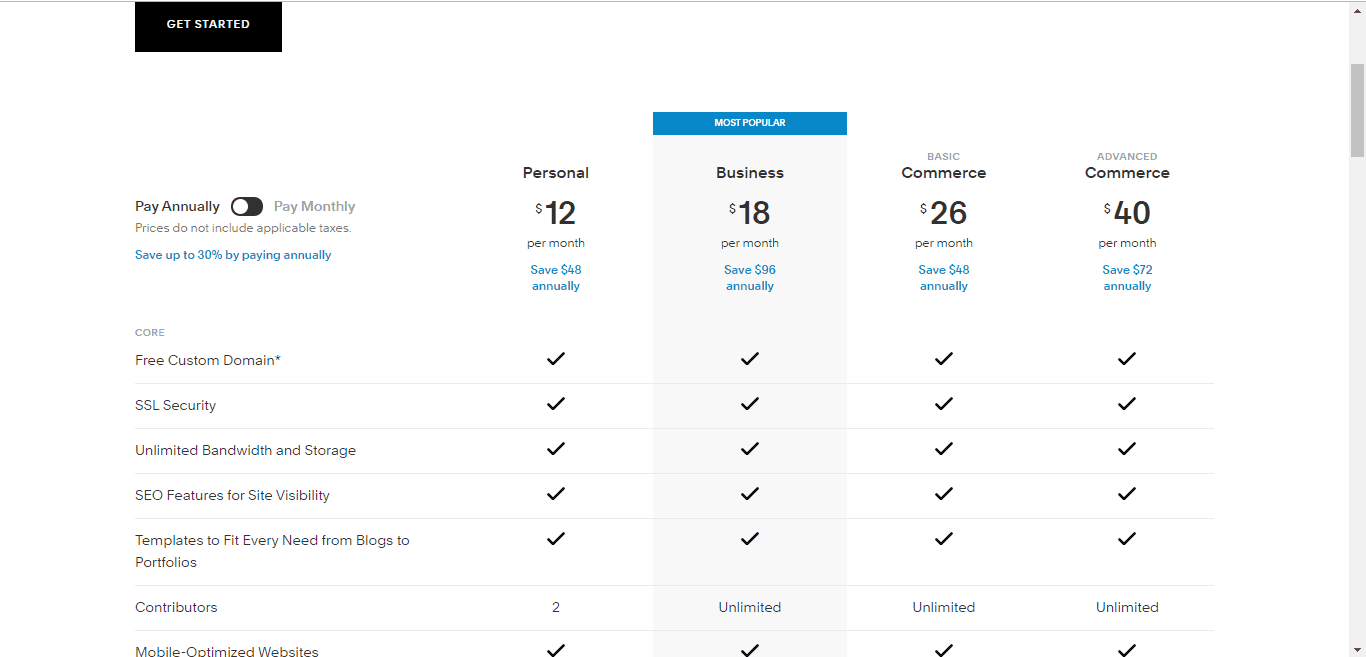 In case you want to set up an online store, you will have to go to the Squarespace business or e-commerce pricing plan. The price tag for both plans is $18/month and $26/month, respectively.
Winner
WordPress should be the obvious winner here because the platform is 100% free to use. However, you also have the choice of buying specific WordPress features if needed.
Compared to WordPress, Squarespace is not so far behind in this race if you want to build a unique and custom website quickly and easily.
WordPress is only a viable option if you want to build a basic yet functional and elegant website. Ultimately, it is more like a tie between the two.
Technical Support
If you're new to the world of web development, it is natural that you may encounter some glitches once in a while. In these cases, you may be looking for some additional help to get you through them. So, how do SquareSpace and WordPress provide customer support, and what is the overall quality of their support?
WordPress
As mentioned previously, WordPress is free software. So, you will not find any dedicated customer support team to help you when you face any technical problems.
To make up for the lack of customer support, WordPress has a dedicated support forum where you can find the solutions to pretty much any problem you are facing, thanks to the knowledge of a community of contributors and users. Access to this forum is free as well.
Some dedicated WordPress support companies can help you solve WordPress-related problems. These are third-party, rather than support offered by WordPress itself. There are also many text and video tutorials about WordPress that are tailor-made for both amateurs and pros alike.
Squarespace
Meanwhile, Squarespace has set up a robust support system. When you first visit the platform, you will be offered an in-depth guide created to help you get the hang of how to use it.
Apart from this, you will find many video tutorials that can help you, even if the guide could not. Then, there is also the option for support through their dedicated community forum.
Lastly, Squarespace has a dedicated team of customer care agents that you can get in touch with via live chat or email.
Winner
When you face any type of technical glitch, the best way to solve them is to get in touch with a human. For this reason, Squarespace is the winner, as there is a customer support team that you can always reach out to.
Maintenance
A website is not something that you just set up and leave it be. Whether you are working on WordPress or Squarespace, ongoing maintenance is crucial.
WordPress
In the case of WordPress, you are the sole owner and caretaker of your website. So, the responsibility of maintaining the site falls on your shoulders. You have no one else to blame if anything goes wrong.
Thankfully, the recent updates made on WordPress have made things a bit easier. Whenever the platform is getting a new release, WordPress will update it automatically. This way, you are saved from at least some of the troubles.
However, the themes and plugins still need to be updated manually. You must keep your plugins and themes updated so that scammers and hackers cannot hack your website through unpatched vulnerabilities or exploits.
Squarespace
Squarespace is a platform that handles everything for you, right from updating your hosting and website to security protocols and configurations.
The only problem that most Squarespace users seem to face is backing the website manually. However, this is not much of a problem because the security of your website is taken care of by Squarespace.
Winner
Squarespace is the winner in this round. While WordPress does have a decent rating for ongoing maintenance, it does not seem as refined or as straightforward to implement as Squarespace.
Security
Security is one of the essential elements you need to consider when you are creating a website. If you are building an e-commerce website and the financial details of your customers get leaked, you will be held responsible for the loss. Which is the most secure platform – is it WordPress or Squarespace? Let's dig deeper.
WordPress
If you are choosing a reputable hosting company, you will not have to worry about security. However, if you are not employing an agency or developer to manage your website, you will have to take full responsibility for the website's security. You also need to ensure that you keep updating to the latest version of WordPress to reduce the chances of being hacked, as mentioned in the previous section.
Squarespace
Squarespace is a hosted platform solution. Therefore, it is the company's responsibility to ensure that the website is safe from hackers and the data backups are kept secure. There is always a chance of Distributed Denial of Services (DoS) attacks on the servers; however, it is the responsibility of Squarespace to take care of these problems.
Winner
Squarespace is the winner here. This is because we can be assured and rest easy knowing that the platform will take responsibility in the event of a hacking incident. To stay safe from potential hackers, Squarespace will always keep updating its security protocols.
Meanwhile, WordPress can only be deemed safe if you use the services of a reputable and formidable hosting company.
Which Is Best For You, WordPress Or Squarespace?
Now that you know some fundamental aspects about WordPress and Squarespace, let's go through and highlight some pros and cons about both platforms individually:
WordPress Pros
WordPress offers many different benefits that other platforms do not like:
WordPress allows you to have a great deal of control over the design and working of your website. There are more than a thousand templates that you can use. Additionally, you have more than you would need to set up and run your website. Then, you can also personalise your WordPress website via the vast number of available plugins.
As mentioned before, WordPress offers a lot of plugins for its users. You will find a plugin for almost anything you want to add to your website. You can use these plugins for a variety of purposes like SEO, tracking site analytics, setting up a contact form, and more.
WordPress was originally made for bloggers. So, it is a no-brainer that content management in blogs is one of the most critical strengths of WordPress. You do not have to create a separate blog for your WordPress website. All you need to do is add a blog post on your site.
WordPress Cons
Sadly, like any platform, it is imperfect in some ways. Some disadvantages of WordPress include:
Less Accessible To Beginners
WordPress is not an intuitive platform. This means that you will have to put in time and effort to learn it. Even if the themes are free, you will still need some knowledge of PHP and CSS to learn how to customise them on a deeper level.
You need to opt for third-party hosting or host a server yourself if you want to run your WordPress platform. This step can be pretty confusing and time-consuming, especially if you are new to this world.
Squarespace Pros
Squarespace, compared to WordPress, offers a variety of easy to use features to help get you started running a website as quickly as possible. Some great pros of Squarespace include:
Editing your Squarespace website couldn't be easier. You don't need any special skills like knowing computer language and coding to edit your website. The backend is extremely user friendly and does not need you to have any web design or coding knowledge.
Excellent Customer Support
Squarespace has a dedicated customer support team available around the clock, with agents that are there to help you with any problem you may be facing.
Alternatively, there is also a community forum that can help you connect with other Squarespace users if you are looking for answers to specific questions or seeking additional information.
Automatic Updating And Maintenance
In Squarespace, you do not have to worry about updating the website. The platform rolls out new features and updates them automatically. This also includes the security protocols.
Squarespace Cons
Some not-so-great features of Squarespace include:
Squarespace templates are nothing compared to WordPress when it comes to design and templates. While Squarespace only has 14 templates that you can choose from, WordPress offers you more than 7,000 templates. The only silver lining for Squarespace is that you can edit the ready-made template much more easily than WordPress.
Squarespace offers some fundamental SEO tools like automatic sitemaps and HTML markups. However, they do not have the features and levels of SEO optimisation WordPress does.
Which One Should You Choose?
If you are looking to create a simple website quickly and don't care much about content ownership or flexibility, Squarespace is a great choice. It is what they are best known for. When it comes to making the technology 'work' and maintenance, there are fewer worries. However, the tradeoff here is that you have to give up a lot of flexibility.
On the other hand, a vast number of web admins would be better suited to the likes of WordPress. The only catch in using WordPress is that there will be a slightly higher learning curve, including a heightened focus on maintenance, performance and security.
But WordPress's core community and team have made excellent progress in turning WordPress into a more accessible tool for newcomers. Just because Squarespace is easy to use does not mean that WordPress is very difficult to work with. With WordPress, you will have more:
Ownership
Flexibility
Functionality
Additionally, you may end up saving some money as well. Both Squarespace and WordPress are great platforms for creating and growing your business website. However, the winner of WordPress org vs Squarespace should always come down to what you are looking for.
Try The Best Productivity App For Busy Digital Workers
As a busy digital professional, you will always look for tools that will help you increase your productivity. One of the best tools available to help you is Switch.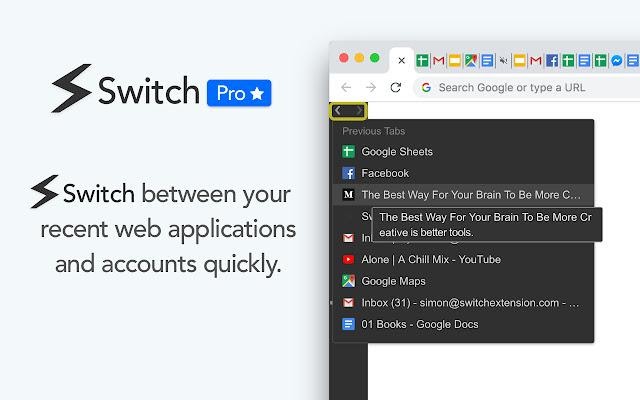 Switch is a workstation that will help you manage your web applications from a single place. This extension can be installed in Google Chrome and will add a sidebar that allows access to all the tabs that are currently open in your browser. These tabs will be organized according to the website name so that you can easily find what you are looking for and switch between tabs and accounts.
With the help of Switch, you can manage multiple email accounts and web applications from a single place, without having to log in or out and getting lost between the tabs.
Some great features of Switch include:
Switch runs in your browser, meaning you can easily access all the extensions and websites that you use in your web browser. The sidebar will display all the websites that are currently open.
Organise Web Applications
If you often use specific web applications, you can simply drag them on the top so that you can access them quickly and easily, without having to search through all of your tabs and windows.
Saving Your Favourites And Notifications
Switch allows you to save all important web applications as favourites. You can open them with a single slick and receive instant notifications as well. The tabs marked as favourites will stay in the sidebar, even after you close down the application.
Switch has an advanced search option that you can easily access. This is a powerful search function that will look for the keyword on all the tabs that are opened.
Get Switch Today!
As you can see, Switch can quickly help increase your work productivity and improve your workflow. Increase your productivity and improve your workflow with this simple-to-install and easy-to-use application.
To begin using Switch, simply click on this link and install Switch on your Chrome browser to get started today!
---
Switch is a productivity tool for busy digital workers. It helps you work quicker than ever before by streamlining your workstation and cutting down time wastage in your browser. Learn more here.
All author posts