Are you using multiple Discord accounts but find it frustrating to switch back and forth constantly? Perhaps you are working for multiple clients or have a separate Discord account for personal use, such as gaming.
Unfortunately, Discord does not have a feature that enables users to easily switch between accounts or have two discord accounts open at once, as some other platforms do. However, there are a few solutions that allow you to access multiple accounts at once that we will cover in more detail in this article.
How To Access Multiple Discord Accounts At Once
Many Discord users have asked how they can access multiple discord accounts at once. One way to do this is to log in and out of Discord accounts each time you need to use a different account. However, this is long-winded and it can be hard to keep track of multiple login credentials. Plus, logging in and out of accounts throughout the day can slow you down.
Luckily, there are a couple of solutions that do not require you to constantly type in your login credentials that we'll explore.
1. Switch Between Multiple Browsers

Since each of your Discord accounts are tied to a different email address, switching between multiple browsers allows you to access multiple accounts at once without retyping your credentials over and over again. Simply open up a different browser for each Discord account that you want to have open. Then, use keyboard shortcuts to switch between browsers quickly.
Step 1
Launch a browser (Firefox, Safari, Chrome, Microsoft Edge, etc.) and sign in to one of your Discord accounts.
Step 2
Launch another browser (this will be different than the browser you chose in step 1) and sign in to an additional Discord account.
Step 3
Continue opening new browsers and signing into your Discord accounts until you have logged into all of your accounts. You should be logged into a different Discord account on each browser.
Step 4
Quickly switch between browsers using these keyboard shortcuts.
For Mac: Hit the F3 key to display all of the windows that you have open. Then, simply click on the window that you want.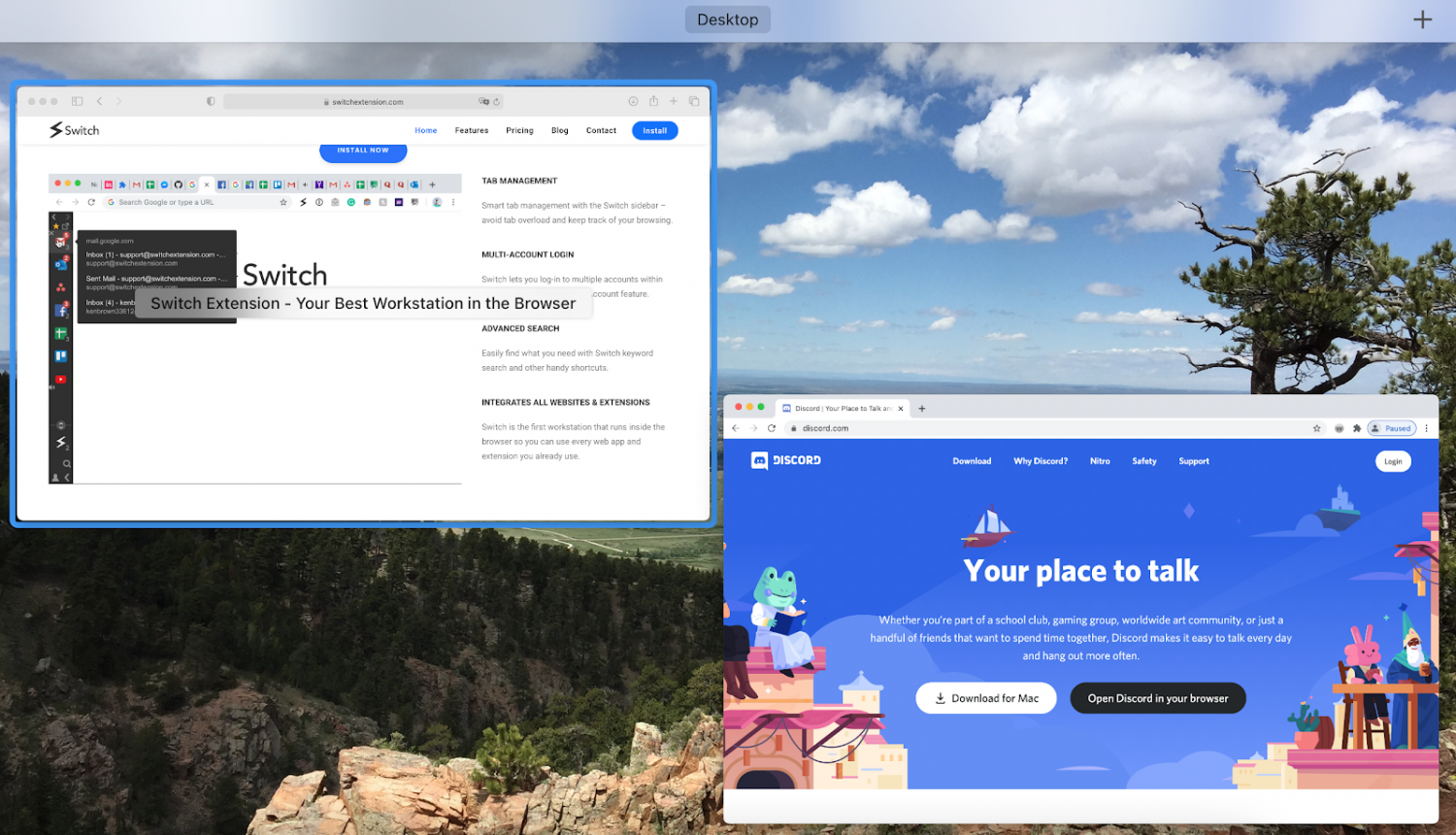 For Windows: Hold down the Alt key and keep pressing Tab to scroll through the windows that you have open. Release the Alt key when you see an outline around the window that you want.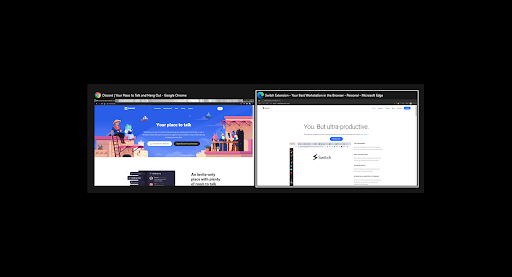 2. Install Switch
Although switching between browsers is a viable option, it is not the best choice. It can be overwhelming having so many windows open simultaneously, which can slow you down and disrupt your flow.
https://switchextension.com/An even better solution to access multiple Discord accounts at once is installing Switch. With Switch, you can log in to multiple accounts on the same browser, as it is specially designed to help users switch seamlessly between multiple accounts of the same application.
In addition to accessing multiple Discord accounts at once, Switch Extension will increase your productivity. The convenient sidebar allows you to navigate the web without being overcrowded with a million tabs.
Plus, you can easily find what you need with the advanced search feature. Switch Extension will not interfere with the web apps and extensions you currently use since the workstation runs directly inside the browser.
Manage Working From Multiple Discord Accounts More Effectively With Switch
To start working more productively between multiple Discord accounts, try Switch today. Simply install to your Chrome browser and begin reaping the benefits.
---
Switch is a productivity tool for busy digital workers. It helps you work quicker than ever before by streamlining your workstation and cutting down time wastage in your browser. Learn more here.
All author posts