In recent times, communication and collaboration apps have become an essential piece of kit for many organisations worldwide. Microsoft Teams and Slack have made it possible to simplify communication and cooperation – both internally and externally. They have become so fundamental that their business benefits have become unquestionable.
'Which is better, Slack or Teams?' is a question that many ask when deciding which one to roll out across their company. A few years ago, the answer to this question would have been simple: Slack. Slack stood at the top of the communication app podium, quite a distance from its competitors. Its features and function made it practically the only choice for companies that wanted to get a platform of this type.
However, in 2017, Microsoft launched Microsoft Teams, building on its long history of dealing with companies of all sizes and its vast experience with collaboration tools.
So, it is not surprising that today, companies that need a robust communications tool to roll out across their company first have to consider the differences between these two applications before making a decision. In this post, we will give you the rundown on how Microsoft Team and Slack compare on each aspect of use to help you decide which is best for your organisation.
What are Microsoft Teams & Slack?
Aside from face-to-face communication, every enterprise needs a good option to aid collaboration and real-time communication from a distance, which is what Teams and Slack offer. This becomes particularly important for companies that work remotely or from different locations. Although these apps are similar at first glance, they do have different designs and features to consider.
Excellent communication is the number one goal of these platforms. They can also help employees get rid of dull, repetitive, and above-all, counterproductive tasks – which we will explore in further detail below.
What Is Microsoft Teams?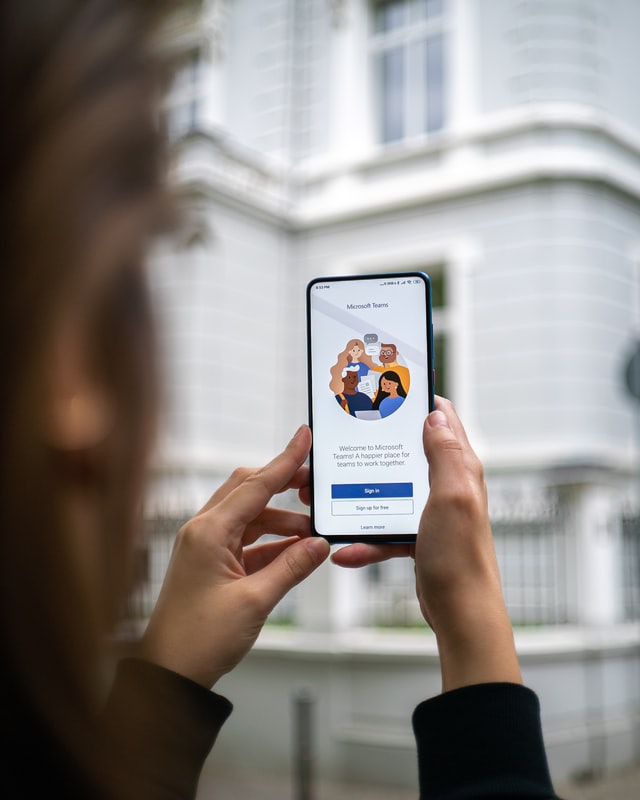 Microsoft Teams is a messaging app for businesses. It is also a workspace where people can collaborate and communicate in real-time.
It has features that help you schedule meetings and share files all in one place. It's open and accessible to everyone. It is, in a way, the "hub" of all Microsoft applications.
The year has forced many companies to introduce remote working practices, as businesses adapt to working during a pandemic. Apps like Microsoft Teams that offer a full range of features to remain connected – not necessarily physically – and work as efficiently as possible, have become paramount for keeping business going.
Teams features include chat, scheduling meetings, calls, videoconferencing, and more. It is a complete tool for learning and collaborating within the same workspace.
What Is Slack?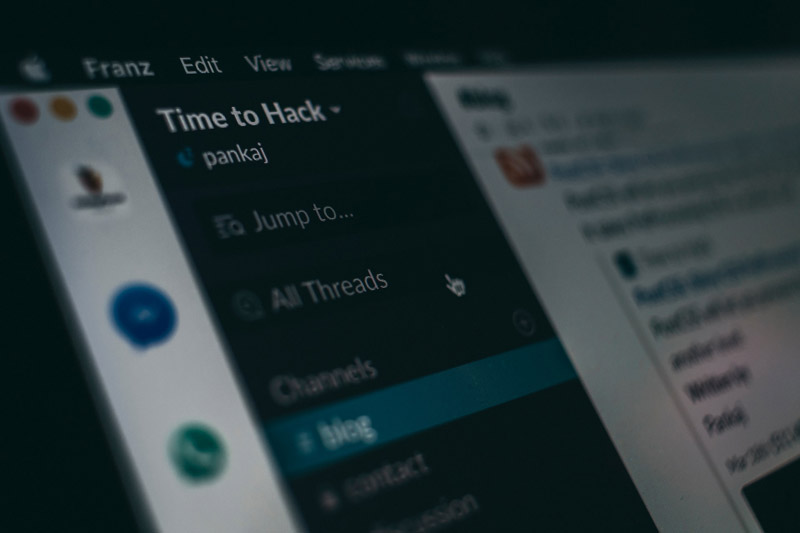 Slack is a collaboration platform and project management software rolled into one. If your team members are working remotely, Slack can be a great way to stay in touch and collaborate.
The app launched in February 2014 and enjoyed great success to the point that in 2018, by revolutionising corporate teams messaging, Slack was valued at an incredible $20 billion.
With Slack, teamwork takes on its full meaning and distance is no longer an obstacle to collaboration. From this platform, you can organise meetings, discuss projects or even set up a project and follow its progress from start to finish.
Collaboration takes on a more professional dimension. It doesn't matter where each team member is located; you can bring them together quickly without having to travel. Also, meetings can be interactive and everyone can intervene just as if they are at a round table.
So, What Are Teams' Features & How Does It Work?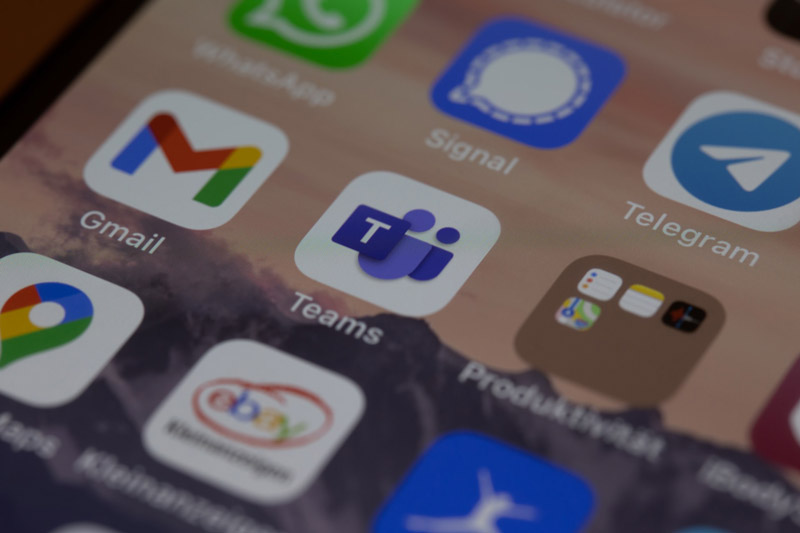 Teams, a collaboration and conversational platform for Microsoft 365 subscribers, was created as a natural response to the expectations and constraints of companies. It integrates the functions of conversation, chat, videoconferencing and the co-editing of files. These features allow companies to provide their users with a secure, ergonomic work platform adapted to new work configurations, like remote working. The platform is geared towards maximising productivity and efficiency.
Below is a more detailed look at the main features of Microsoft Teams.
Audio and Video Conferences
This is part of the telephony and meeting features of Teams. 2018 marked a significant turning point for Microsoft 365 Teams, with the gradual integration of communication features initially reserved for Skype for Business. Teams now offers direct video conferencing, allowing you to launch a video call with several collaborators with a simple click on the camera icon.
Microsoft Teams also has document or screen sharing features and the ability to take over the desktop remotely. It is also possible to broadcast a smartphone's screen directly in a video conference, making it easier to make presentations on the go.
In addition, the conference can be recorded to allow absent employees to watch a replay. To do this, users simply activate the recording of the meeting.
Easy Collaboration
Thanks to its integration into Microsoft 365, it is possible to create Word, Excel or Powerpoint documents, share them with team members, and quickly change them. There is no longer any need to send different versions by email address, which is often confusing. With Microsoft Teams, a single interface allows you to add comments, mark tasks, and discuss the document with colleagues.
Business Telephony Functionality
Regularly, communication and telephony functionalities are added to Microsoft Teams. The platform will eventually make it possible to manage all professional IP telephony from within Teams.
Teams already provides telephony functionality, meaning users can call any number in the world. The only requirement is to authorise Microsoft Teams as a telephony platform in the Office 365 admin centre.
Guest Access for Partners and Customers
The guest access functionality allows the addition of external partners to the company via a simple email address. The guest user will only access the group to which they have been added. The rest of the members will be notified of this addition.
This means that guests can also join audio and video conversations without accessing Microsoft Teams. This can be very useful when a user is on the move without having access to Teams. It helps members to be able to chat with an external individual who does not have the interface. Guest users can simply connect with Team members in conferences directly through their web browser.
This is great for people who juggle managing multiple clients at once, as they can be communicated with simply from the same platform.
App Integration
One of the most exciting features of Teams is the addition of applications on the platform that enables groups to have a complete and personalised workspace for their needs.
More than 202 tools are available for integration. These include Hootsuite, Polly, MailChimp, ZenDesk, SurveyMonkey, and many more widely used apps. Some apps allow you to customise your display within Teams, too.
Other Features
Microsoft Teams is continuously updated with new features and app integrations for existing Office 365 services, making it a competitive offering for businesses. Some extra features of the platform include:
User action shortcuts
User action shortcuts allow you to use certain features more easily and quickly. For example, it is possible to initiate a call by using the call command and simply indicating the name of the person to call.
File sharing
Microsoft Teams provides the ability to share files between collaborators easily. Word, PowerPoint, Visio, and Excel files can quickly be sent, shared and viewed directly in a video conference, simplifying the process. All of these features in the current version of Teams require little time for users to learn.
What Are Slack's Features & How Does It Work?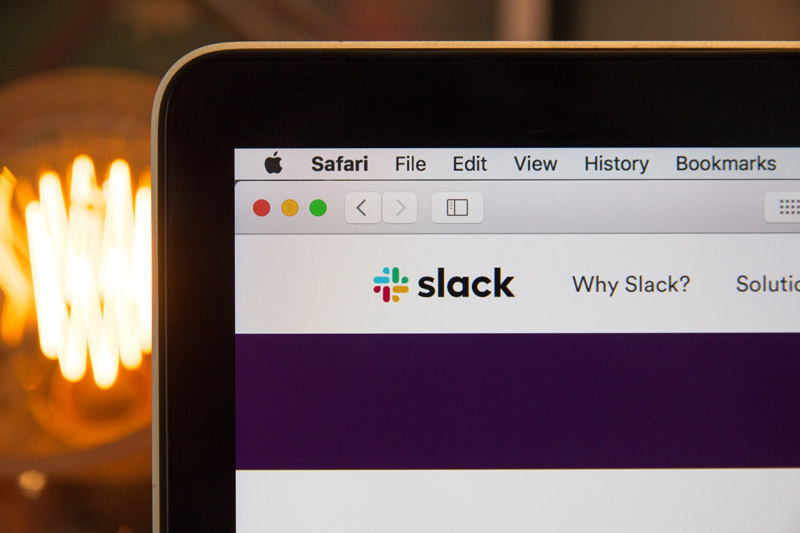 Conversation Channels
Within Slack, users can create specific conversation channels to bring together members working on the same project. Channels can be created by project, by team or by worksite, for example.
Team members can choose to join or leave the channels created, giving flexibility for people to dip in and out as projects progress and requirements change.
Guest Accounts and Shared Channels
This feature is for companies and startups who need to involve actors external to the company. This can be clients, freelancers or companies assisting with business delivery.
To collaborate with external partners, users simply have to create guest accounts or a shared channel which they invite people to. This is very similar to the functionality offered by Microsoft Teams.
Video Calls
Messages are good, but sometimes a face-to-face exchange is the best format for communicating important or timely messages. To this end, Slack allows users to launch video calls directly within its application.
One click is enough to initiate an in-app call. Simply initiate the call with the user of your choice and you're ready to go. No need to use apps like Skype or Zoom, Slack will handle it all.
Integration Options and Applications
Just like Teams, Slack has a long list of apps that you can use with it. You can also integrate your existing workflows into Slack using the integration options.
Slack apps extend the capabilities of your workspace with tools to customise functionality or integrate relevant services.
Some of the apps you can add and integrate to Slack include Cisco Webex Meetings, AsanaMove, HubotGitHub's chatbot, HubSpotMarketing software, and more.
With its abundant app integration options, Slack has the flexibility to provide businesses with a customised workhub that meets their unique business needs.
An Efficient Security System
Slack uses a powerful encryption system in order to protect users' data. Thanks to this system, users can make use of the platform with complete security. Furthermore, the platform has also adopted a strict confidentiality policy, so that users do not need to worry about internal message history becoming publicly available.

Other Features
Slack has a lot of features needed for the remote operation of a business. Some of the other features you can find on Slack include:
To compete with emails within a company, Slack obviously had to manage file sharing! Users can share files with just a few clicks, including images, PDF, .doc, videos, mp4, etc.

Slackbot
If you've ever dreamed of having a personal assistant to remind you to perform specific tasks, then Slackbot is for you. All you have to do is ask and Slackbot will remind you to complete a task. The bot can even take care of sending messages to your colleagues at a scheduled time and day.

The search tool
The search tool will save you a lot of time! With the search function, you can find any message in your Slack exchanges, including channels and private conversations combined. The tool is very powerful. Even from a few letters, you will discover exchanges, files, images, etc. You no longer need to search for hours in your history or on your computer to find an important document.
Side-by-side: Slack Vs. Teams Comparison
Before focusing on the points where both tools differ, it is important to compare how they stack up side by side against each other.
Before we begin, it's important to note that Slack prefers to offer the user a wide range of options to choose from. Although it seems like a great advantage, and, indeed, it can be, it can often end up becoming chaotic and confusing.
While, on the contrary, Microsoft Teams embraces the concept of efficiency, which is the ability to achieve objectives using a specific number of resources. Below, we will see how both platforms compare and differ from each other.
Usability and Interface
Both Slack and Teams focus on displaying the messaging services in the centre of the screen and a sidebar on the left with different functionalities.
The Teams interface has a sober and corporate look. It contains the basic elements of the platform and visible search and extension options in case the user requires another application service.
This makes the interface intuitive and easy to use, with easy access to all the tool's functionalities. The Teams design consists of three customisation options: the default display, a night vision and a high-contrast options, which works well for people with visual disabilities.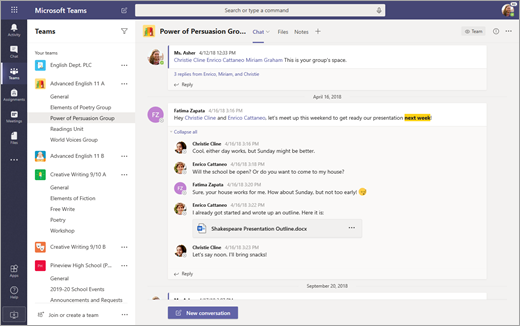 Teams interface | Source: Microsoft
Slack, however, has a more relaxed and colourful main interface than Teams. It offers a lot of options and functionalities that, at least in the first instance, may not be the most intuitive for users. But this is quickly overcome with use. It also allows users to customise the sidebar and give it a more business appearance or simply make it more comfortable for browsing.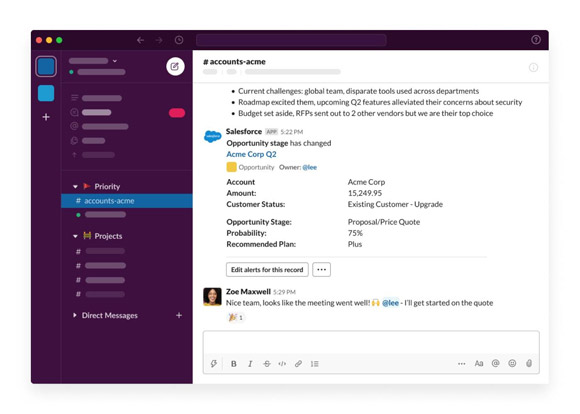 Slack interface | Source: Slack
Verdict: Slack has a slightly better interface and usability than Teams.
Communication Options
As for messaging, Slack and Team are quite similar, allowing private or group conversations, opening channels to deal with specific topics, sharing files, different documents, spreadsheets, etc.
A critical point where Teams differs from Slack, though, is its ability to create subgroups. This allows users to set up rooms for different teams within the same group. For example, users can replicate the departmental structure of an organisation by providing a departmental group with individual team subgroups.
When it comes to video calling, also, there is a clear winner here. When looking at free versions, Slack allows us to meet with 15 people while Microsoft Teams is open to 250 users. This difference also carries through to their paid plans.
Verdict: Teams seems to have the edge when it comes to communication options.
Integrations
As discussed earlier in this article, Microsoft Teams has seamless integration with the Microsoft 365 suite (formerly known as Office 365). Tools such as Word, OneNote, Excel or PowerPoint are used by about 80% of the world's companies. So, the advantage here is clear.
This family of applications is even available in the free version in Teams and can be used without leaving the platform. It supports the native integration of other Microsoft tools, such as Power Apps or Power BI, and the possibility of integration with third-party tools.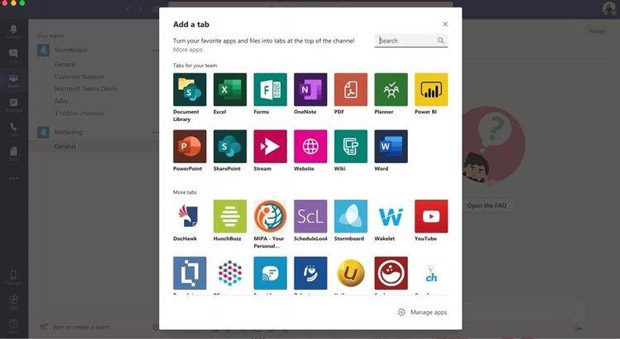 Integration on Teams | Source: Stormboard
Slack, for its part, has no inherent integration beyond the chat service and file storage. But it does not hinder you when it comes to acquiring external tools and using them.
Going back to its philosophy of choice and range, it gives users around 2,000 third-party apps to choose from. The data indicate that a high percentage of Slack users also use Microsoft 365 tools. Meaning users don't have to use Teams to make use of other Microsoft products.
However, as it is not a native integration, companies must pay for acquiring these additional app solutions, which leads many companies to opt for Teams instead.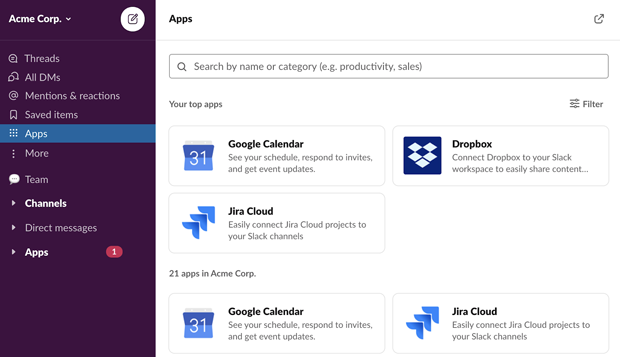 Integration on Slack | Source: Slack
Verdict: Microsoft Teams wins out when it comes to native integration with other widely used Microsoft products.
Security and Privacy
With the new privacy policies of WhatsApp, the debate on the security and privacy of messaging tools has returned to the table. In this section, both Teams and Slack have key basic security aspects, such as:
Data encryption
ISO / IEC 27001 certification
Two-factor authentication
However, Microsoft Teams stands out again at this point thanks to its end-to-end encryption, which ensures that only the interested sender and receiver (or receivers) can access the information sent.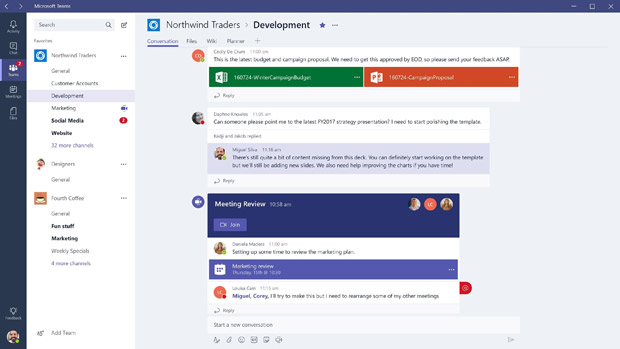 Microsoft Teams end-to-end encryption | Source: Softpedia
Verdict: Microsoft Teams end-to-end encryption gets the edge over Slack in the battle of privacy and security.
Slack Vs. Teams Final Verdict: Which is Best for You?
Being a Microsoft tool, Teams integrates seamlessly into Office 365. It is not necessary to exit the software to access your PowerPoint slideshows, Word documents or OneNote, nor to download and upload video or text files. Microsoft Teams focuses on the collaborative needs of the business, resulting in enhanced security and compliance.
As we have seen, if you want the best platform with security and privacy, optimal integration, and communication options, Teams is your best bet.
People still love Slack. Slack has an excellent user interface and user experience. Slack has ushered in a new, more fun way to communicate in the workspace with its many features and integrations. Slack's main weak point, however, is that the app doesn't include any functionality by default outside the chatting and file storage.
Therefore, companies have to pay for access to other solutions if they need to organise collaborative content or access messaging services. While not a problem for some, many companies choose to save money by switching to Teams, as the cheapest plan with Teams is a lot cheaper than Slack's most affordable plan.
Recently, we've seen more and more businesses migrate from Slack to Teams, especially since Google announced the development of a business communications app. As Google has a robust partner ecosystem, and the company is expected to consolidate services like Hangouts Meet, G-Suite, and a real-time messaging app, businesses are starting to say it's the beginning of the end for Slack.
However, Slack and Microsoft Teams are the biggest collaborative platforms and a must-have in any modern and efficient working environment. In this fierce battle to become the best platform, which one will you choose?
Elevate Your Team's Productivity & Output, Try Switch Today
If you're looking for ways to help your team to stay productive and on task during a busy working week, then Switch could be the tool your team needs. It helps users toggle between multiple accounts and multiple tabs seamlessly from within one browser, without losing time and focus. It works with all existing platforms and applications, so there's no need to change the way you work when you use Switch. Help your team be ultra-productive today by installing Switch for free now.
---
Switch is a productivity tool for busy digital workers. It helps you work quicker than ever before by streamlining your workstation and cutting down time wastage in your browser. Learn more here.
All author posts