We are more than thrilled to be sharing this next venture in Switch's journey.
Introducing: the Switch Slack community.

What is it?
Our mission at Switch is simple, really. We're into helping you, be you. But ultra-productive.
We're already making major moves on this mission with Switch Extension – our popular tool that helps keep your browser organised and supercharges your digital life.
So, what's the next step? To begin building an experience that helps every single person be the best version of themselves, and this is where our Slack community steps in.
We created this space for productivity-enthusiasts to:
Discover new hacks, tips, tools and processes.
Connect meaningfully with like minded go-getters.
Improve their productivity levels simply, and painlessly.
In other words, it's full to the brim of insights to level-up the way you work.
What goes on?
To cut to the chase – there's a lot.
Behind closed doors, we'll be hosting conversation on everything from productivity tools you just can't live without, to hacks for entrepreneurs, to must-read content of the week, and sooo much more.
Just some of our channels include… 👇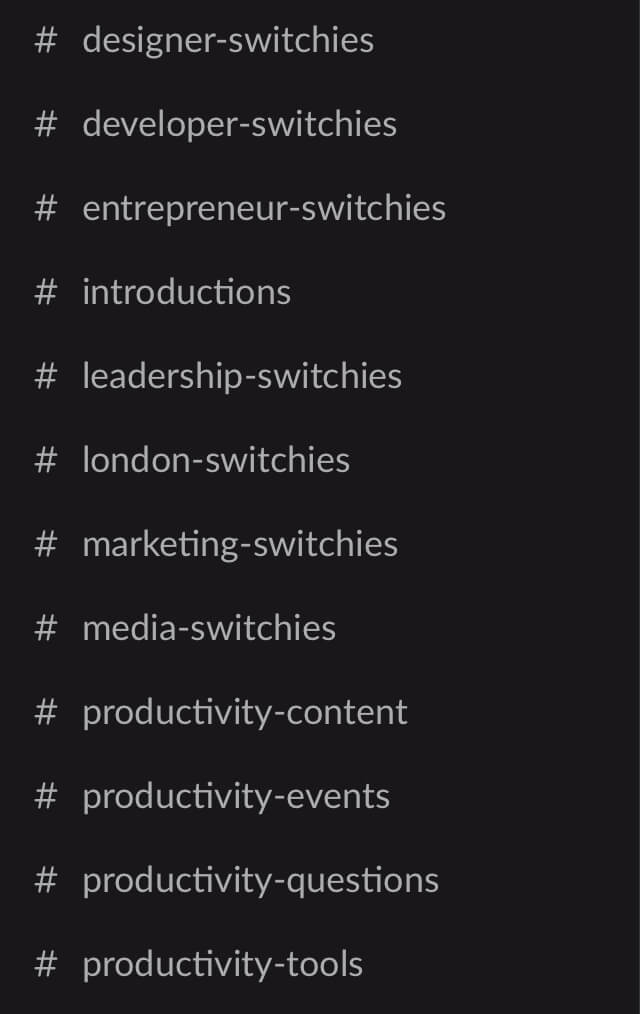 We also run weekly community run-downs in the #announcements channel, and, we've launched a bi-weekly newsletter to run alongside the community chattering. Get on the list now.
How it works
Step 1: join the Slack group by following this link and sign yourself up
Step 2: join as many channels as you like – there are 20+ to choose from!
Step 3: if you've got a question, post it in the relevant group. If you've got an answer for someone else's, step in. If you see a gap for a new channel, set it up.
FAQs
Is there a fee to join?
Our community is (yes, ladies and gents) free of charge. You're welcome.
Are all the channels available for me to access?
Most channels are available for everyone to make use of. We have one private channel reserved for Switch Pro users – dedicated to those really serious about supercharging their productivity. 😉
Can I talk about my company's solutions?
Our community is a place for learning and knowledge-sharing, not selling. If you notice a conversation that would genuinely benefit from learning about your company's solutions, then it is okay to mention this. But, please remember that you must be open about your affiliation and that any spam will not be tolerated.
Sign up now👇

---
Switch is a productivity tool for busy digital workers. It helps you work quicker than ever before by streamlining your workstation and cutting down time wastage in your browser. Learn more here.
All author posts